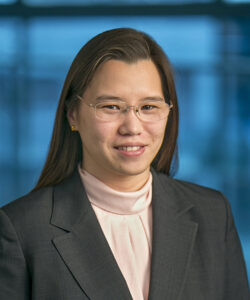 Cynthia Sung, Gabel Family Term Assistant Professor in the Departments of Mechanical Engineering and Applied Mechanics and Computer and Information Science, has received the 2023 IEEE (Institute of Electrical and Electronics Engineers) Philadelphia Section Delaware Valley Young Electrical Engineer of the Year Award.
The Young Electrical Engineer of the Year Award is given to an electrical engineer who has demonstrated excellence in technical, scientific, academic or managerial endeavors. The award emphasizes creative, important, and widely recognized work.
Sung received this award "for her fundamental contributions to design and fabrication of soft and origami robots" at the IEEE Annual Awards Gala on April 22, 2023.