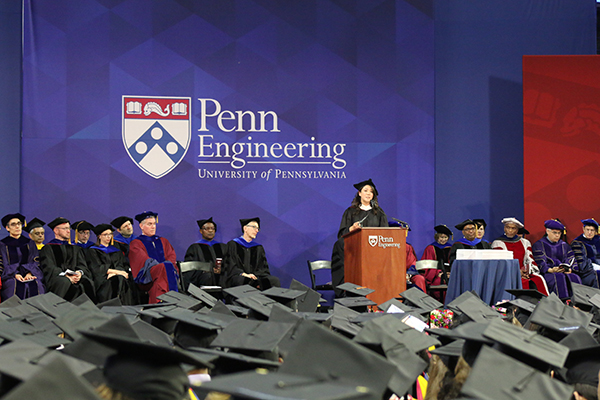 From May 11 through May 15, Penn Engineering held 2023 Commencement Ceremonies and events in recognition of the students graduating from the School's doctoral, master's and undergraduate programs. Students, family, friends and members of the Penn Engineering faculty and staff gathered to celebrate the accomplishments of this incredible group. Congratulations to these amazing engineers!
Penn Engineering invites you to take a look at the 2023 Commencement Recap and use the videos embedded below to watch the full ceremonies.
2023 Commencement Recap
Doctoral Commencement
Thursday, May 11
Penn Engineering's 2023 Doctoral Commencement featured a message from keynote speaker Lance R. Collins, the inaugural Vice President and Executive Director of the Virginia Tech Innovation Campus.
Master's Commencement
Friday, May 12
Penn Engineering's 2023 Master's Commencement featured a keynote speech from David Quattrone, Co-founder and Chief Technology Officer at Cvent.
Undergraduate Commencement
Saturday, May 13
Penn Engineering's 2023 Undergraduate Commencement featured a message from keynote speaker Nancy Wang, a Director of Product and Engineering and General Manager at Amazon Web Services, and student speaker Vasu Macherla, a 2023 recipient of both a B.S.E. in Chemical and Biomolecular Engineering with a concentration in Pharmaceutics and Biotechnology, and a B.S. in Economics with a concentration in Business Analytics.
University of Pennsylvania 267th Commencement
Monday, May 15
The 267th University of Pennsylvania Commencement featured a message from Commencement speaker and Tony Award-winning actress, singer/songwriter, producer, and author Idina Menzel.