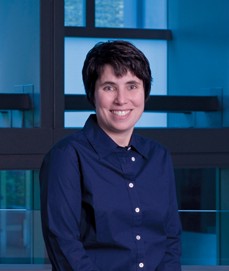 Cherie Kagan, Stephen J. Angello Professor in the Departments of Electrical and Systems Engineering and Materials Science and Engineering, has been named a 2021 Fellow of the National Academy of Inventors (NAI), an award of high professional distinction accorded to academic inventors. Elected Fellows have demonstrated a prolific spirit of innovation in creating or facilitating outstanding inventions that have made a tangible impact on quality of life, economic development and the welfare of society. 
Kagan's research interests include studying the chemical and physical properties of nanostructured materials and integrating materials with optical, electrical, magnetic, mechanical, and thermal properties to create multi-)functional devices. Her lab explores the properties of materials and measures the characteristics of devices using spatially- and temporally-resolved optical spectroscopies, AC and DC electrical techniques, electrochemistry, scanning probe and electron microscopies, and analytical measurements. 
In addition to serving as Penn Engineering's Associate Dean of Research, Kagan is also the Director of the NSF Engineering Research Center for the Internet of Things for Precision Agriculture (IoT4Ag), an interuniversity initiative that seeks to address food, energy, and water security challenges by developing a suite of novel, networked technologies. Through soil-based microsensors, mobile robots and analytical software tailored to agricultural decision-making, IoT4Ag aims to make modern farming more efficient and train the next generation of agricultural workers to maximize these tools. 
The academic inventors and innovators elected to the rank of NAI Fellow are named inventors on U.S. patents and were nominated by their peers. Along with 163 other newly elected Fellows, Kagan will be inducted on June 15, 2022, at the NAI 11th Annual Meeting in Phoenix, Arizona.