Brain-machine Interfaces: Villainous Gadgets or Tools for Next-gen Superheroes?
A Q&A with neuroscientist Konrad Kording on how connections between minds and machines are portrayed in popular culture, and what the future holds for this reality-defying technology.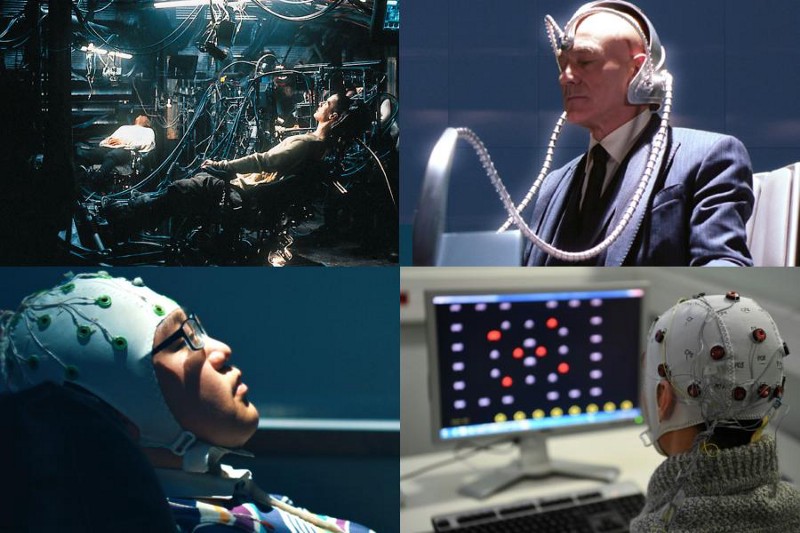 By Erica K. Brockmeier
For the many superheroes that use high-powered gadgets to save the day, there's an equal number of villains who use technology nefariously. From robots that plug into human brains for fuel in "The Matrix" to the memory-warping devices seen in "Men in Black," "Captain Marvel," and "Total Recall," technology that can control people's minds is one of the most terrifying examples of technology gone wrong in science fiction and superhero films.
Now, progress made on brain-machine interfaces, technology that provides a direct communication link between a brain and an external device, is bringing us closer to a world that feels like science fiction. Elon Musk's company NeuraLink is working on a device to let people control computers with their minds, while Facebook's "mind-reading initiative" can decode speech from brain activity. Is this progress a glimpse into a dark future, or are there more empowering ways in which brain-machine interfaces could become a force for good?
Penn Today talked with Konrad Kording, a Penn Integrates Knowledge Professor whose group works at the interface of data science and neuroscience to better understand the human brain, to learn more about brain-machine interfaces and where real-world technologies and science fiction intersect.
Q: What are the main challenges in connecting brains to devices?
The key problem is that you need to get a lot of information out of brains. Today's prosthetic devices are very slow, and if we want to go faster it's a tradeoff: I can go slower and then I am more precise, or I can go faster and be more noisy. We need to get more data out of brains, and we want to do it electrically, meaning we need to get more electrodes into brains.
So what do you need? You need a way of getting electrodes into the brain without making your brain into a pulp, you want the electrodes to be flexible so they can stay in longer, and then you want the system to be wireless. You don't want to have a big connector on the top of your head.
It's primarily a hardware problem. We can get electrodes into brains, but they deteriorate quickly because they are too thick. We can have plugs on people's heads, but it's ruling out any real-world usage. All these factors hold us back at the moment.
That's why the Neuralink announcement was very interesting. They get a rather large number of electrodes into brains using well-engineered approaches that make that possible. What makes the difference is that Neuralink takes the best ideas in all the different domains and puts them together.
Q: Most examples in pop culture of connecting brains to machines have villainous or nefarious ends. Does that match up with how brain-machine interfaces are currently being developed?
Let's say you've had a stroke, you can't talk, but there's a prosthetic device that allows you to talk again. Or if you lost your arm, and you get a new one that's as good as the original — that's absolutely a force for good.
It's not a dark, ugly future thing, it's a beautiful step forward for medicine. I want to make massive progress in these diseases. I want patients who had a stroke to talk again; I want vets to have prosthetic devices that are as good as the real thing. I think short-term this is what's going to happen, but we are starting to worry about the dark sides.
Continue reading on Penn Today.