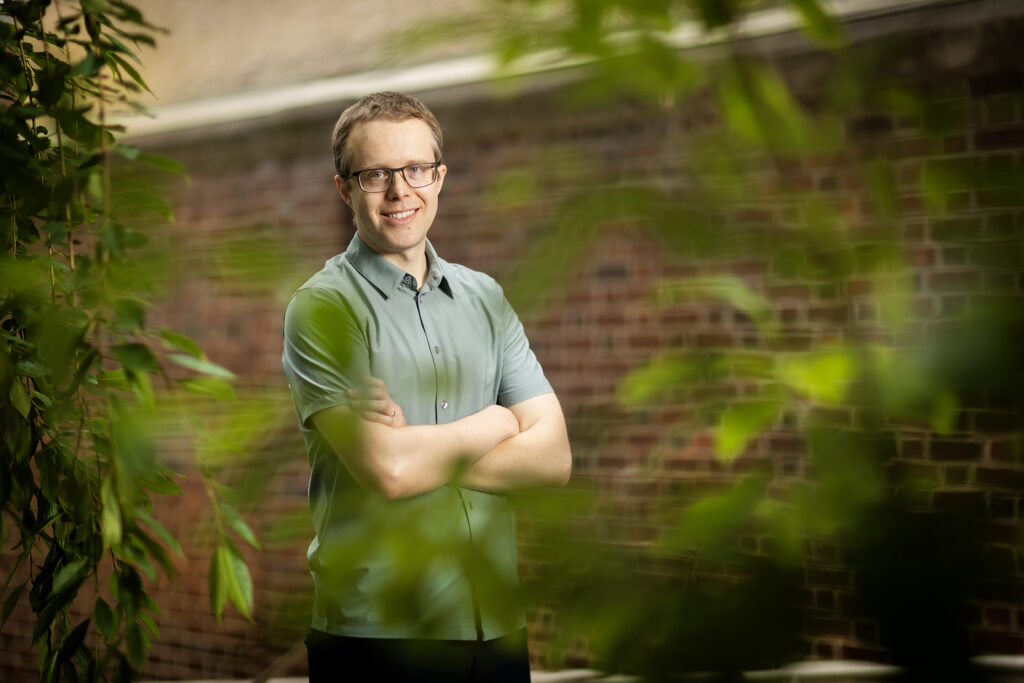 When trying to choose between two career paths—dentistry and engineering—Kyle Vining decided 'Why not both?' Vining joined Penn in July 2022 and is jointly appointed in the School of Dental Medicine and the School of Engineering and Applied Science.
"During my training, I saw that there was overlap where I could do clinical work and science at the same time, and so that's what I've been doing ever since," Vining says. "As far back as middle school, I always wanted to be a biomedical engineer, and then the clinical side became interesting to me because I didn't want to only do the theoretical or research side of things. I also wanted the hands-on, practical interaction of a skilled profession."
The benefits of a dual career: Variety and opportunities to give back
Vining finds that wearing two hats offers the best of both worlds: opportunities to help both individual patients and to contribute to scientific and clinical progress.
"On the dentistry side, what I enjoy is getting to see patients, solving clinical problems, and trying to perform the best treatment I can; it has this rapid pace, which is kind of exciting and keeps you motivated," Vining says. "And then research allows me to explore my interests and think about making an impact more broadly, not just in dentistry, but in medicine or in the world in general."
Vining says dental school was demanding, yet a good time to explore his varied interests. He says he'd encourage others to pursue dentistry with an interdisciplinary approach. "Having exposure to different fields or different knowledge while you're a student is really good for students and the profession in general," he says.
The path towards a dual career
Vining first delved into research as a biomedical engineering undergraduate at Northwestern University. "I had the opportunity to work in a materials science lab studying the chemistry of surfaces. We would use molecules to modify the properties and surfaces that environments or cells could interact with," he says.
Then, as a student at the University of Minnesota School of Dentistry, Vining realized that this same materials science research had many applications in dentistry. While in dental school, Vining conducted independent research in a materials science lab and also took the opportunity to do a yearlong fellowship in a cell and developmental biology lab at the National Institutes of Health.
Vining credits this fellowship with launching him towards a Ph.D., which he completed in bioengineering at Harvard in 2020. After earning his Ph.D., Vining conducted research at the Dana-Farber Cancer Institute prior to joining Penn.
Read Liana F. Wait's full story on Kyle Vining at Penn Today.