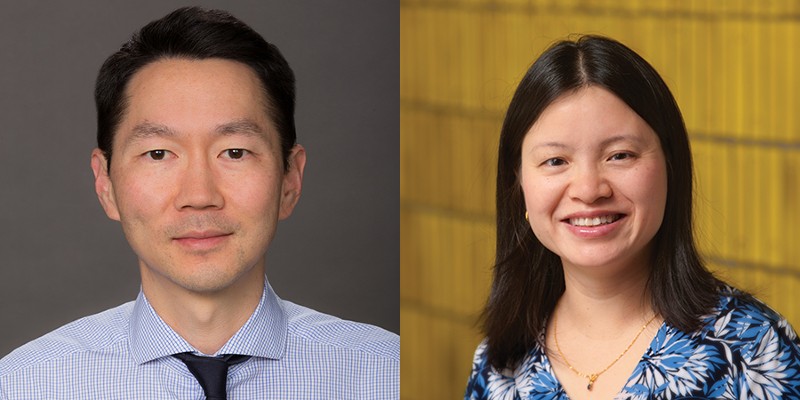 The Center for Innovation and Precision Dentistry (CiPD), a collaboration between Penn Dental Medicine and Penn Engineering, has presented its inaugural Advancing Oral & Craniofacial Health Award, which aims to stimulate research around new oral health care technology and devices.
This year's winner is Eugene Ko, Assistant Professor of Clinical Oral Medicine at Penn Dental Medicine, who will be collaborating with Shu Yang, chair and Joseph Bordogna Professor in the Department of Materials Science and Engineering, with a secondary appointment in the Department Chemical and Biomolecular Engineering.
Their project is entitled "Baby Seal: Promoting Intrinsic Sucking in Cleft Palate Infant Bottle Feeding." It is also part of the Penn Health-Tech Accelerator Program, which provides dedicated pilot funding and project support for early-stage technology development and commercialization to faculty and staff from Penn and the Children's Hospital of Philadelphia.
Ko's idea came to him after close family friends described the challenges they faced when attempting to feed their infant son who was born with a cleft lip and palate:
"Hearing about the stress they went through in the first few months of their son's life really stuck with me on a personal level, but also piqued my interest from a clinical standpoint," says Dr. Ko. "Physiologically, infants with a palatal cleft cannot suck properly; think of a straw with a hole in it."
After doing more research and realizing that there was a void in the market for a device that promoted the intrinsic sucking reflex, Ko had his eureka moment after reading an article in Penn Today about Yang's work on developing a reversible adhesive inspired by snail slime:
 "I approached Dr. Yang with a proposal to use her reversible adhesive to temporarily seal the hole in the palate during feeding," he recalls. "Our project would enhance current specialized infant feeding bottle systems by incorporating a novel hydrogel that will allow parents to create a temporary seal over the cleft palate."
Yang is among several engineers who are part of this year's Penn Health-Tech Accelerator cohort, which also includes James Weimer, Research Assistant Professor in Computer and Information Science, Mark Allen, Alfred Fitler Moore Professor in Electrical and Systems Engineering and Inaugural Scientific Director at the Singh Center for Nanotechnology, and César de la Fuente, Presidential Assistant Professor in Bioengineering, Microbiology and Psychiatry.