Aleksandra Vojvodic Earns EFCATS Young Researcher Award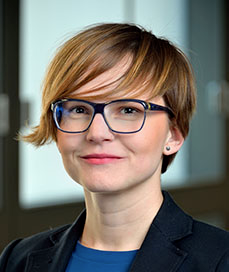 Aleksandra Vojvodic, the Skirkanich Assistant Professor of Innovation in the Department of Chemical and Biomolecular Engineering, is the recipient of the 2017 European Federation of Catalysis Societies Young Researcher Award.
Her work in catalysis is focused on finding new materials that increase the efficiency of chemical reactions, particularly ones that split hydrogen and oxygen atoms off from water molecules. Such reactions have the potential to be the basis of a clean, plentiful energy source.
The scholarly society described the award and Vojvodic's research in an announcement last week.
This Award recognizes individual contributions in the field of catalysis with emphasis on theoretical or experimental discovery and understanding of new catalysts and catalytic processes, synthesis and catalytic function of novel inorganic solids and complexes, mechanisms of reactions, deactivation phenomena.
Professor Vojvodic is being specifically recognized for her computational and theoretical efforts in understanding, predicting, discovering and designing transition-metal compound materials for energy and chemical transformations. The depth and width of her research include the chemistry of transition metal compounds such as oxides, carbides, and nitrides, surface chemistry of complex materials, catalysis, electrocatalysis, stability and reactivity of thin oxide films, interfacial properties between supported oxide nanoparticles and films, and the role of the triple phase boundary in catalytic reactions.
Vojvodic is one of Penn's newest faculty members, and was one of MIT Technology Review's 2016 "35 Innovators Under 35."
Along with experimentalist colleagues at Stanford University, she recently published research on how nanoscale mechanical manipulations of the common catalyst ceria can significantly boost its performance. Their study appeared in Nature Communications.