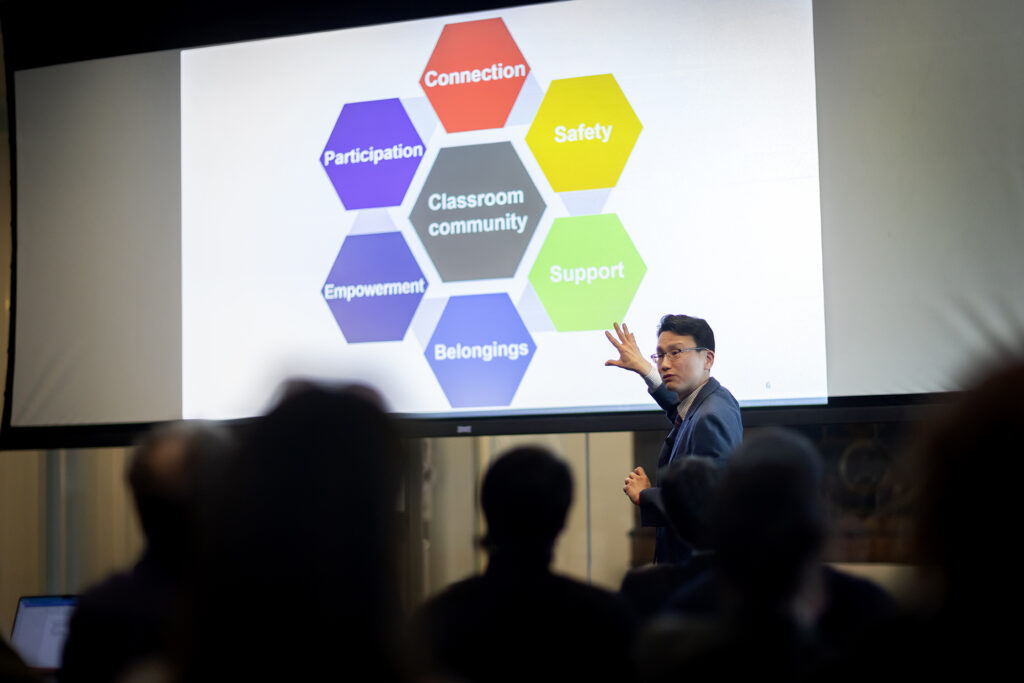 Daeyeon Lee of the School of Engineering and Applied Science delivered the 2023 Thompson Chair Lecture on April 4, 2023. He spoke about reconnecting in the classroom and building community. 
Surrounded by his supportive research team, fellow faculty, students, School of Engineering and Applied Science Dean Vijay Kumar, and Interim Provost Beth Winkelstein, Daeyeon Lee recently delivered the 2023 Evan C Thompson Chair Lecture about—fittingly enough—establishing a sense of community as we return from the isolating days of the pandemic.
"Students who feel connected with instructors and among peers will invest more time, work harder, and retain information better, because they feel comfortable and safe being in the classroom and making space," Lee said in his opening remarks. "So, there are clearly lots of positive benefits to having this connectedness among students in the classroom."
Lee's lecture, titled "(Re)connecting in the Classroom," was inspired by the "Great Disengagement" referenced in an article published in The Chronicle of Higher Education last year. It portrayed students as more disconnected and uncertain as they re-entered the campus environment.
The Evan C Thompson lecture was established in 2003 by Thompson, an alumnus of the Wharton School, and is themed around excellence in teaching. The term chair rotates every three years and is commemorated with a lecture; previous chairs have included Katy Milkman, the James G. Dinan Professor at Wharton; Peter Struck, a professor and chair of the Department of Classical Studies in the School of Arts & Sciences; and the chair is currently held by Lee, who has held the honor since July 2020.
Lee's lecture continued with a reference to a 2006 journal article published in JSTOR, "The College Classroom as a Community: Impact on Student Attitudes and Learning, College Teaching," that theorized the classroom as a community, using six variables to define how connected students were in a classroom. The unsurprising finding, Lee said, is that when students reported positive feelings about these variables—which include themes like safety, empowerment, and belonging, to cite a few—they reported better learning outcomes.
Lee used a combination of course evaluations and survey data from his students to talk about techniques he uses to keep them engaged, while still maintaining academic rigor—ending his presentation by pointing to a course evaluation from a student that mentioned the difficulty of Lee's course, while ultimately learning new ways to think.
Read more about Lee's "(Re)connecting in the Classroom" in Penn Today.