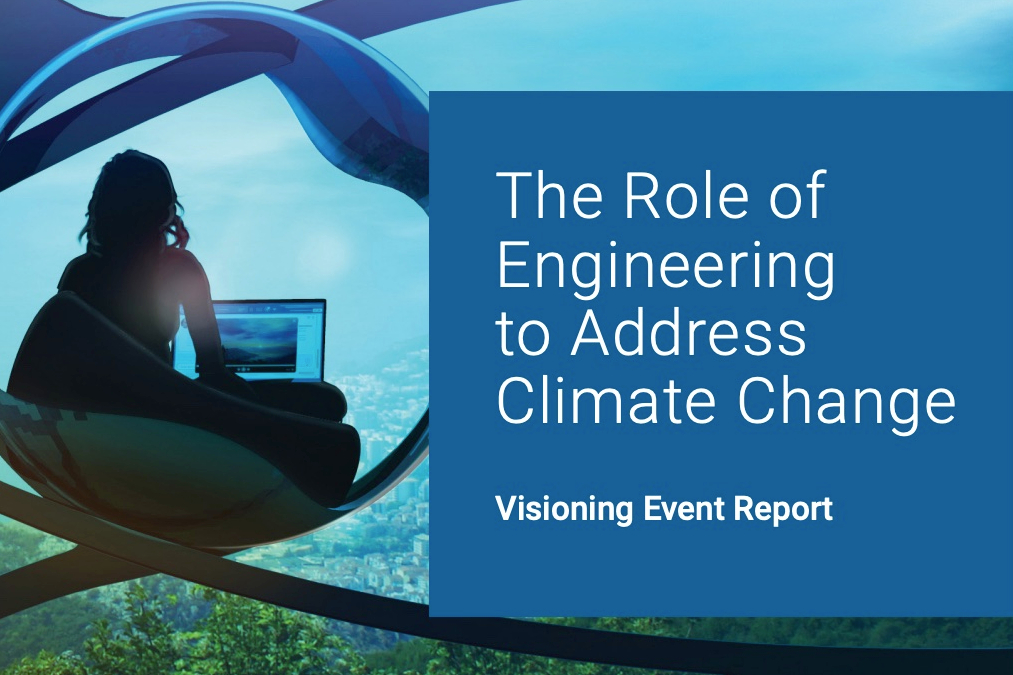 The Engineering Research Visioning Alliance (ERVA), a U.S. National Science Foundation-funded initiative, released a report today delineating bold, fundamental research priorities the engineering research community can pursue to address climate change. ERVA's inaugural report results from a visioning event that convened more than 100 leading researchers from universities, industry and government. 
Vijay Kumar, Nemirovsky Family Dean of Penn Engineering, and Shu Yang, Joseph Bordogna Professor and Chair of the Department of Materials Science and Engineering, played critical roles in the development of this first-of-its-kind event and report.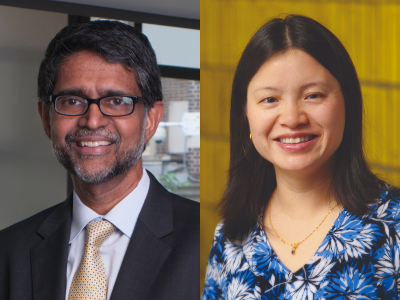 Along with the University of California, Los Angeles Samueli School of Engineering and the University of Utah College of Engineering, Penn Engineering served as co-host for ERVA's visioning event, contributing to agenda framing, participant recruitment and the development of the report itself.
At the event, Kumar led a panel dedicated to "Envisioning Engineering Climate Change Institutes of the Future," a new organizational model for interdisciplinary research that fosters collaboration between engineers and experts in the fields of social science, business, law and the arts. Such institutions would also represent a way of widening the pipeline for the next generation of climate change researchers, supporting the diverse range of backgrounds and perspectives necessary for tackling this global problem.
Yang co-led an event workshop on the topic of Health and Climate Change. One of the key opportunities the report identified was at the intersection of resilience, energy, infrastructure and human health, areas that dovetail with Yang's research on construction with carbon-negative concrete and the use of reactive coatings for the thermal management of buildings. Yang also served as one of the co-host lead report drafters. 
The aim of the ERVA report is to catalyze researchers and research funders, whether public, private or nonprofit, to tackle priorities to address climate change. It arrives at a critical time: congress recently passed legislation including $370 billion aimed at curbing carbon emissions and incentivizing the use of renewable energy sources, the largest funding amount allocated to fighting climate change in U.S. history. 
As momentum builds to address the effects of climate change, engineering research will play an important role.
"Engineers are driven by devising elegant solutions to complex problems," said Amy Heintz, a member of ERVA's Executive Committee, a co-chair of the Thematic Task Force for the visioning event and technical fellow at Battelle. "Engineering research will make solutions to climate change possible — with innovations that bring our natural world, our built world, and our societies into balance."
The report identified lines of engineering research that will have significant impact and benefit society. A common thread is the need to address today's critical scientific and societal challenges using collaborative, cross-disciplinary and convergent approaches. The report identifies three major thrusts:
Focus on critical materials in engineered systems and the important role they play in technologies that mitigate climate change. Engineering research can help maximize their function and efficiency.

Invest in sensor, sensing, and related communication capabilities to facilitate data compilation and analysis that can be used in both natural and built worlds, from subsurface environments to water and air.

Enable and strategically use artificial intelligence modeling for forecasting, trend analyses, and to prioritize which solutions to implement.
The executive summary and full report can be found on ERVA's website.