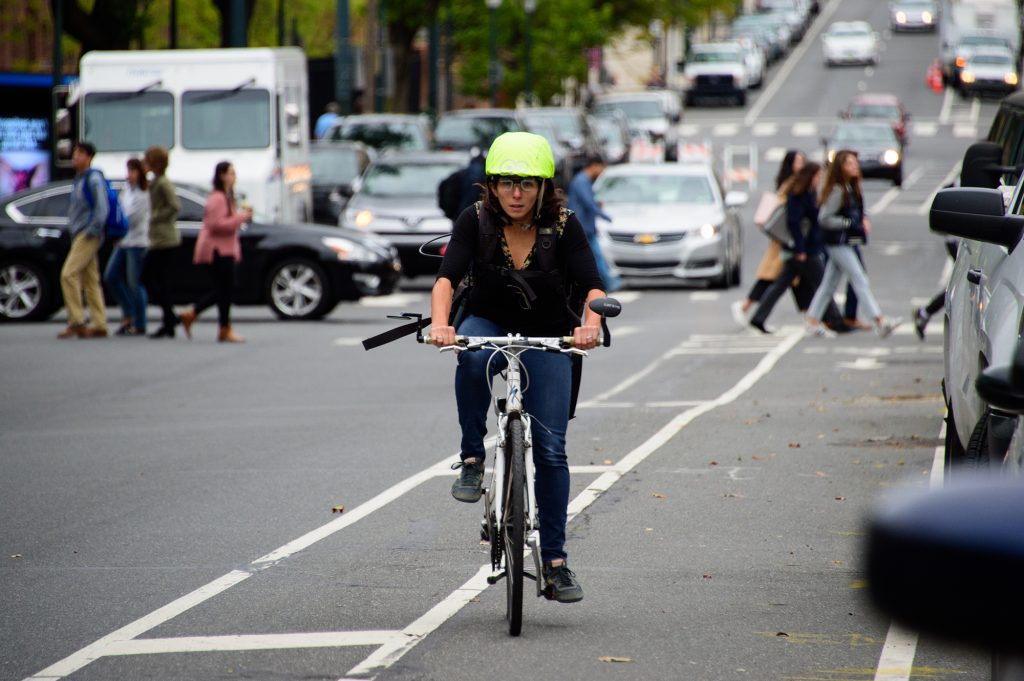 A new study published in Accident Analysis & Prevention shows how biometric data can be used to find potentially challenging and dangerous areas of urban infrastructure before a crash occurs. Lead author Megan Ryerson led a team of researchers in the Stuart Weitzman School of Design and the School of Engineering and Applied Science in collecting and analyzing eye-tracking data from cyclists navigating Philadelphia's streets. The team found that individual-based metrics can provide a more proactive approach for designing safer roadways for bicyclists and pedestrians.
Current federal rules for installing safe transportation interventions at an unsafe crossing—such as a crosswalk with a traffic signal—require either a minimum of 90-100 pedestrians crossing this location every hour or a minimum of five pedestrians struck by a driver at that location in one year. Ryerson says that the practice of planning safety interventions reactively with a "literal human cost," has motivated her and her team to find more proactive safety metrics that don't require waiting for tragic results.
Part of the challenge, says Ryerson, is that transportation systems are designed and refined using metrics like crash or fatality data instead of data on human behavior to help understand what makes an area unsafe or what specific interventions would be the most impactful. This reactive approach also fails to capture where people might want to cross but don't because they consider it too dangerous and that, if it were safe, more people would utilize.
"Today we have technology, data science, and the capability to study safety in ways that we didn't have when the field of transportation safety was born," says Ryerson. "We don't have to be reactive in planning safe transportation systems; we can instead develop innovative, proactive ways to evaluate the safety of our infrastructure."
Continue reading at Penn Today.