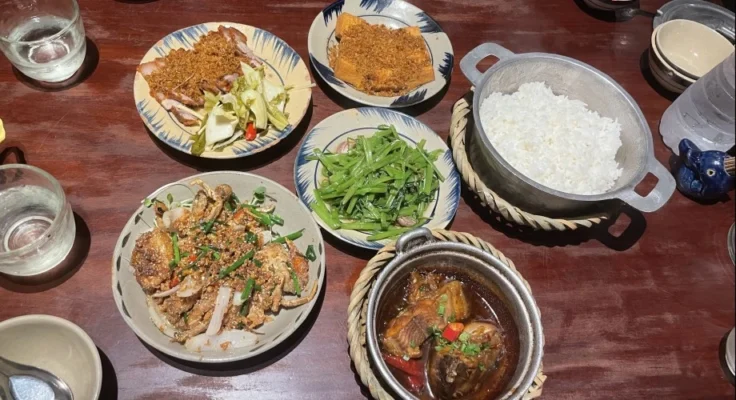 GRIP: Sustainable Development in Ho Chi Minh City
My journey abroad began with a sense of homecoming. Being of Vietnamese descent, I had grown up surrounded by the rich tapestry of Vietnamese culture within my family. However, this summer was the first time I would be able to immerse myself in the culture and experience it on my own. I would be able to meet people on my own, try new foods on my own, and explore new places so beyond what I have seen through the guidance and supervision of my family. This summer I was able to finally experience Vietnam through a lens that was mine alone.
Living independently in a local neighborhood allowed me to observe daily life up close. Living in a new place for two months allowed me to create a new routine for myself that involved getting to know the community and area I lived in. My mornings would involve walking down the block and enjoying a cà phê sữa đá (Vietnamese iced coffee with milk) with a fresh bánh mì or cơm tấm (broken rice) before leaving for work.
Although my family had always spoken Vietnamese at home, my proficiency had remained at a basic level. Living in Vietnam, I was determined to enhance my language skills. Daily interactions with locals became invaluable language lessons. I practiced my conversational Vietnamese in markets, taxis, and cafes, gradually gaining confidence. I quickly realized the value of holding onto and utilizing my first language as it allowed me to experience parts of Vietnamese culture that I would not have been able to find without it and also share these experiences with my friends interning abroad with me. As I became more proficient, I found that people opened up to me more, sharing stories and insights that I might have missed otherwise.
My two-month summer internship in Vietnam as an independent student with a Vietnamese background was a transformative experience. It allowed me to break free from the confines of my family's point of view and explore Vietnam on my terms. Through cultural immersion, community connections, language breakthroughs, and culinary exploration, I gained a deeper appreciation for the beauty and complexity of my heritage. This journey not only provided me with a new, brighter perspective on Vietnam but also enriched my sense of self and identity as a proud Vietnamese American. It was a summer of self-discovery that will remain etched in my heart forever and makes me so excited to go back in the future.
This reflection originally appeared at Penn Abroad.